Support the AGC UNM Student Chapter - ASC Competition

Dear AGC Construction Professionals,
The AGC UNM Student Chapter will be sending their top-notch student's to Sparks, NV to compete in the 32nd Annual Associated Schools of Construction (ASC) Student Competition. Please join us in January to help coach AGC/UNM's student chapter Design-Build team students. This practice session aids the students in strengthening their presentation skills and your feedback/questions will benefit them greatly on competition day. contact Kelly Roepke-Orth to RSVP.

Additionally, the AGC UNM Student Chapter is requesting fundraising support to assist in this invaluable experience, furthering their industry career goals.
AGC New Mexico Endowment funds will help in part, however, your support is needed and much appreciated in any of the following;
Please find full details enclosed with the official Chapter Support letter:
AGC UNM Student Chapter Letter - If anyone would like to donate, checks can be made payable to and sent to AGC-UNM at 1 University of New Mexico, MSC01 1070, Albuquerque, NM 87131.

---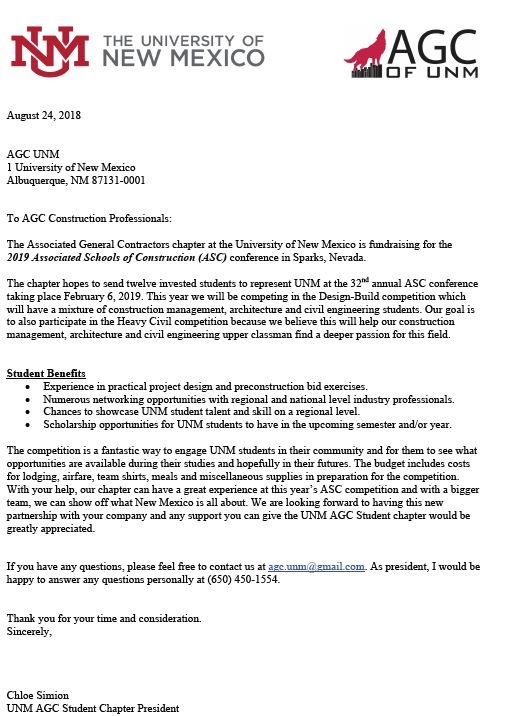 ---
Thank you for supporting workforce development excellence and the AGC UNM Student Chapter.