2nd Annual Construction Career Expo to Take Place on April 6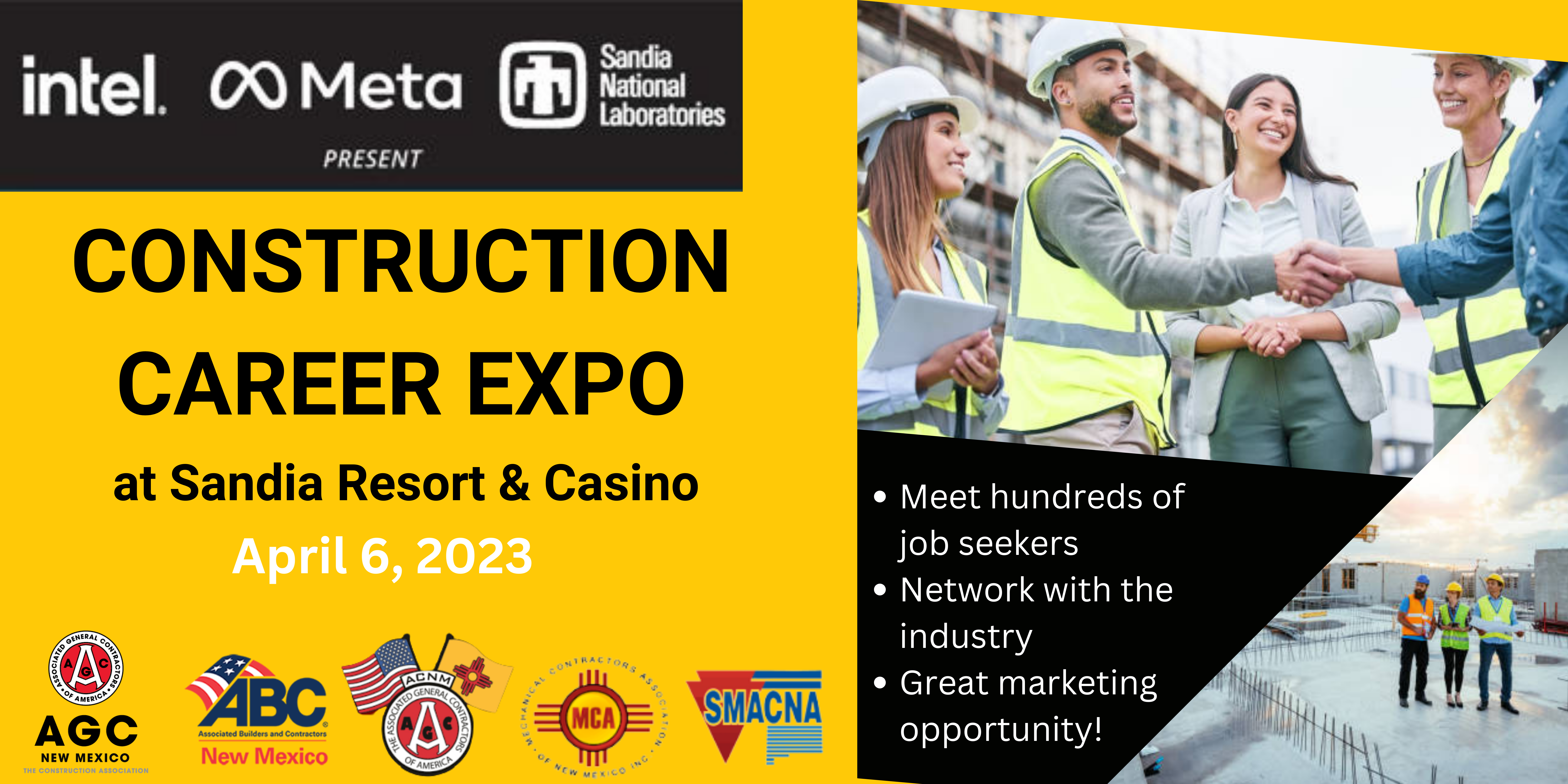 2nd Annual Construction Career Expo to Take Place on April 6
For the second year, Intel, Meta, and Sandia National Laboratories are sponsoring a job fair entirely for the construction industry and construction-related career pathways at Sandia Resort and Casino.
AGC New Mexico, in partnership with ABC New Mexico, ACNM, and MCA/SMACNA OF New Mexico are hosting the 2
nd
Annual Construction Career Expo sponsored by Intel, Meta, and Sandia National Laboratories. The event will take place from
11:00 am – 3:00 pm at Sandia Resort and Casino
in the main ballroom. Employers can register for a vendor booth on
AGC-NM.org.
This event is open to the unemployed, underemployed, or anyone seeking a career change. Benefits of a career in construction include:
Excellent Pay and Benefits
No Student Debt
Not an office job – work with your hands!
A career path that can take you all the way to CEO – no degree required.
Both administrative and field job opportunities will be available. Attendees will learn how they can build their career in construction and meet over 80 employers of the industry from across the state and region. Free snacks and drinks will be provided, along with swag and Oculus giveaways. Job seekers can learn more and RSVP for this event on
www.nmcareerfair.com
.
Employer in the industry? Construction industry members and contractors are welcome to join us at the Contractor Expo kick-off prior to the Construction Career Expo on Wednesday, April 5. An Owner Roundtable Panel featuring speakers from Intel, Meta, and Sandia National Laboratories, will take place over breakfast, followed by an Economic Outlook presentation. Register on
AGC-NM.org
.
About AGC New Mexico
AGC New Mexico is the trusted professional source which represents the entire construction industry. We are dedicated to ensuring the future through unifying and advancing the construction industry in New Mexico.