AGC NM Celebrates National Volunteer Week, April 18-24



We are proud to celebrate National Volunteer Week, April 18-24
"No one who achieves success does so without acknowledging the help of others. The wise and confident acknowledge this help with gratitude." Alfred North Whitehead, British Philosopher
We are grateful year after year for the AGC Members, Leaders, and Industry Partners who refuse to accept current conditions by simply reacting - instead they choose to anticipate the future by being proactive and capturing opportunities.

Thank you to all of our AGC Volunteers who engage people through action, effort, and achievement. They influence positive change by reframing initiatives, looking at systems, processes and markets in unique ways. They find opportunities to create and are determined to improve their profession and communities. We appreciate and can't do our good work without YOU!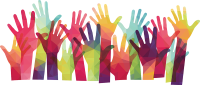 If you want to get more involved, please contact Carol Littler in our office!