Get Out the Construction Vote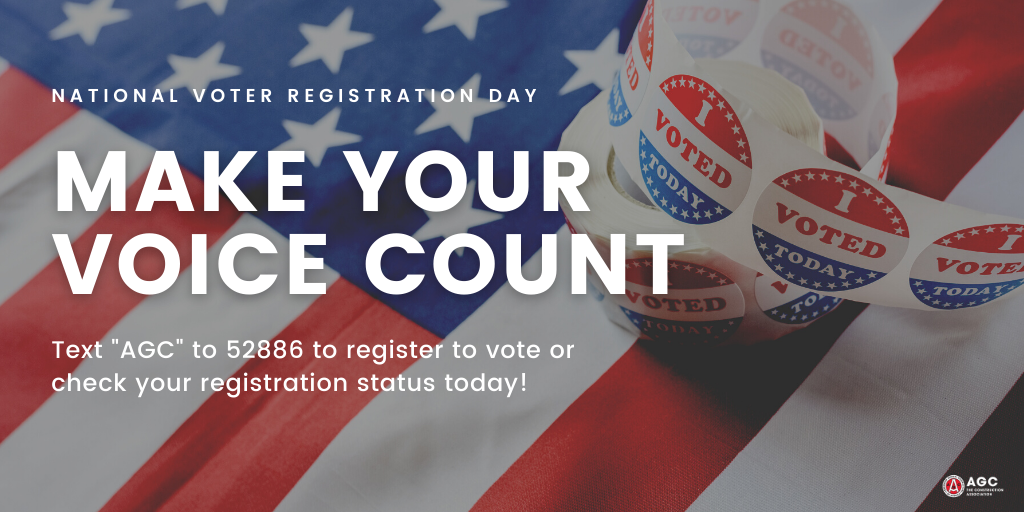 AGC needs your help to ensure construction professionals turn out to vote this November.

With only 46 days left until the 2020 election, AGC is sounding the alarm now because elections have consequences. November 3, 2020 will be a defining day for the country as the presidency, 35 U.S. Senate seats, 435 U.S. House of Representatives seats, and countless local and state offices are up for election. To increase voter turnout from the construction industry, the association is imploring its member companies to communicate the importance of voting to their employees.

To help member companies with this effort, AGC of America has created an Election Center where individuals can register to vote or check their registration status, obtain early voting information, request an absentee ballot, and view the candidates that will be on their November ballot. The center also includes nonpartisan resources for member companies, which can be used to remind employees about the importance of voting and participating in this year's election. Don't worry, the resources will not advocate for the election of any particular candidates, and will include:
Sample email text to remind colleagues about voter registration deadlines, early and absentee voting, and voting on Election Day.

Sample text and images to use on social media accounts.

GOTV flyers that can be posted around the office or on the job site.
These resources can be found under the "Company Resources" option on the 2020 Election Center menu.
Please contact our team at advocacy@agc.org if you have any questions.