Innovative outreach through Connected Instruction – 'Careers in Construction Month'
Connected Instruction through AGC's 'NM Building Education Foundation' (
NMBEF
)
Connected Instruction -
communicate, connect, and employ; a rural Workforce Development Plan to rebuild relevant education-to-employment systems. The workforce development initiative is supported by a planning grant from the W.K. Kellogg Foundation of Battle Creek, MI.
Project Overview
: 'Connected Instruction' is a term for how career education can be taught in high schools and community colleges. The planning grant allows focused attention to 'Connected Instruction'; integrating industry driven curriculum that ties instruction and applied learning to employment opportunities in the region.
Working with partners to develop strong programs that direct students to internships, apprenticeships, employment, and professional advancements within their career choice.
Connected Instruction – Career Readiness Pilot with NM Department of Transportation (NMDOT)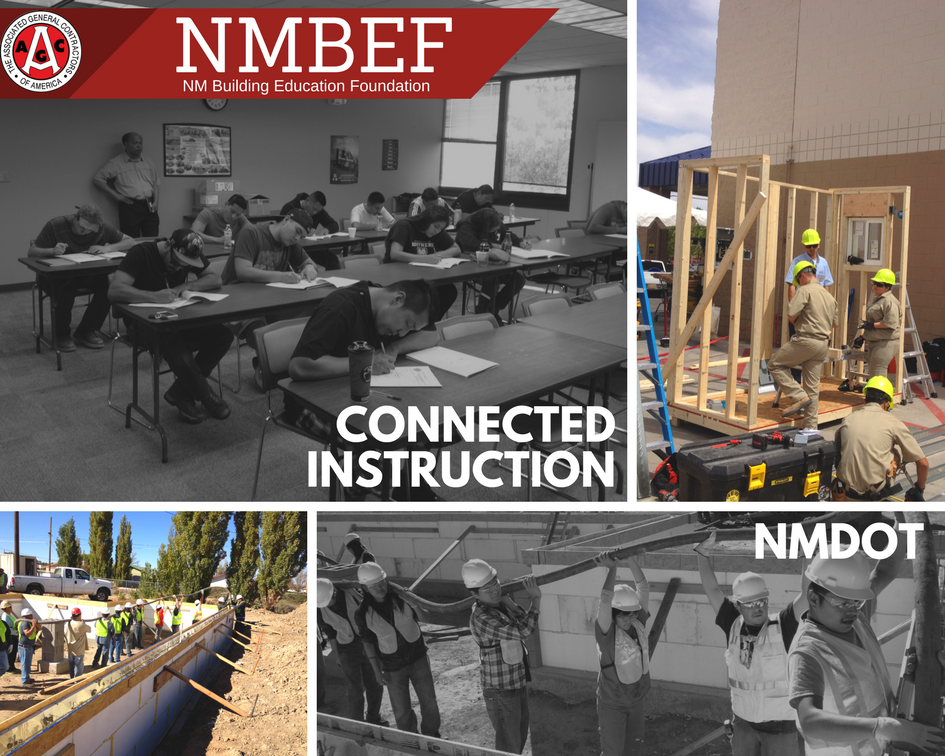 Governor Susana Martinez proclaimed October as Careers in Construction Month, noting that construction professionals play a critical role in the development of our state and that the National Center for Construction Education and Research (NCCER) is providing training curriculum to help America's youth and displaced workers to find rewarding careers in the construction field. The New Mexico Department of Transportation (NMDOT) applied NCCER modules in a successful pilot Transportation Construction Career Readiness Training Program in Gallup, New Mexico in June 2017. The program participants received three weeks of instruction on skills such as construction math, use of hand tools and power tools, reading construction drawings, basic rigging, and developing personal employability skills. Additionally, trainees received the basic OSHA Ten-Hour safety training. The Transportation Construction Career Readiness Program was developed in partnership between NMDOT, the Associated General Contractors of New Mexico and the University of New Mexico, Gallup, with financial support from a Federal Highway Administration OJT/SS grant."

- NMDOT Secretary Tom Church and NMDOT Deputy Secretary Anthony Lujan